Proper
medical waste management
typically means complying with several sets of rules and regulations: local, state, and federal. However, these guidelines can vary, or, in the case of
medical waste in Houston, regulations
can even be nonexistent at the local level.
Because of this, medical waste disposal can become a hassle: how are you supposed to properly dispose of waste in Houston, Texas if the city doesn't have its own guidelines? Fortunately, there are still state and federal regulations (and other industry guidelines) that should provide a frame of reference.
What Are the Guidelines for
Medical Waste Disposal
in Texas?
In Texas, medical waste regulations are outlined in Title 30 Texas Administrative Code (30 TAC), Chapter 326, §326.3(23). These regulations are further elaborated on in 25 TAC, Part 1, Chapter 1, Subchapter K, §1.132. These laws define medical waste as:
Waste from animals that have been intentionally exposed to pathogens

Bulk blood

Bulk human-blood products

Bulk human body fluids. 
"Bulk," in this context, is defined as being a containerized aggregate volume of 100 mL (3.38 oz) or more.
Texas also includes microbiological and pathological waste in its distinctions, as well as sharps waste. And, while Houston has official government guidelines for disposing of other types of solid waste like pharmaceutical waste and mercury, it does not have such guidelines for medical waste.
Per the city government, private companies are available to dispose of medical wastes. Outside of this, regulated medical waste (RMW) generators in Houston follow federal guidelines, depending on the situation:
The Drug Enforcement Agency covers controlled

pharmaceutical waste.

The Dept. of Transportation covers

medical waste disposal

that involves pick up services.

The United States Postal Service is involved in scenarios that include mailback.

The Texas Commission on Environmental Quality regulates all RMW generators, transporters, and disposal facilities within the state.
These agencies may inspect for proof of employee training, and overall RMW management, including containment, storage, packaging, labeling, transport, and treatment.
Is Medical Waste Regulated by OSHA?
The Occupational Safety and Health Administration (OSHA) is often cited as an agency that deals with medical waste disposal; however, they have said that this is not the case. OSHA has also stated, "disposal of all regulated waste shall be in accordance with applicable regulations of the United States, States and Territories, and political subdivisions of States and Territories." Instead, OSHA provides its own provisions for storing any medical waste, though these guidelines are relatively basic and are not unlike the ones we have previously established.
What Are the 4 Major Types of Medical Waste?
According to the World Health Organization (WHO), the four major types of medical waste are: general non-infectious waste, non-hazardous waste, radioactive waste, chemical or pharmaceutical waste, and sharps waste.
Each group of waste has its own method of storage and disposal that should be followed. The WHO's system for sorting waste for disposal is as follows:
Black is used for general non-infectious, non-hazardous waste.

A lead box of any color with a radiation symbol is used for radioactive waste.

Brown with a warning symbol signifies chemical or

pharmaceutical waste

.

Yellow with a biohazard symbol is used for infectious waste, pathological waste, and

sharps waste

.
OSHA's standard simply states that medical waste (outside of contaminated sharps waste) must be placed in closeable, leak-proof containers that are either labeled or color-coded. These guidelines are consistent with the WHO's, but beyond that, they do not offer much specific information.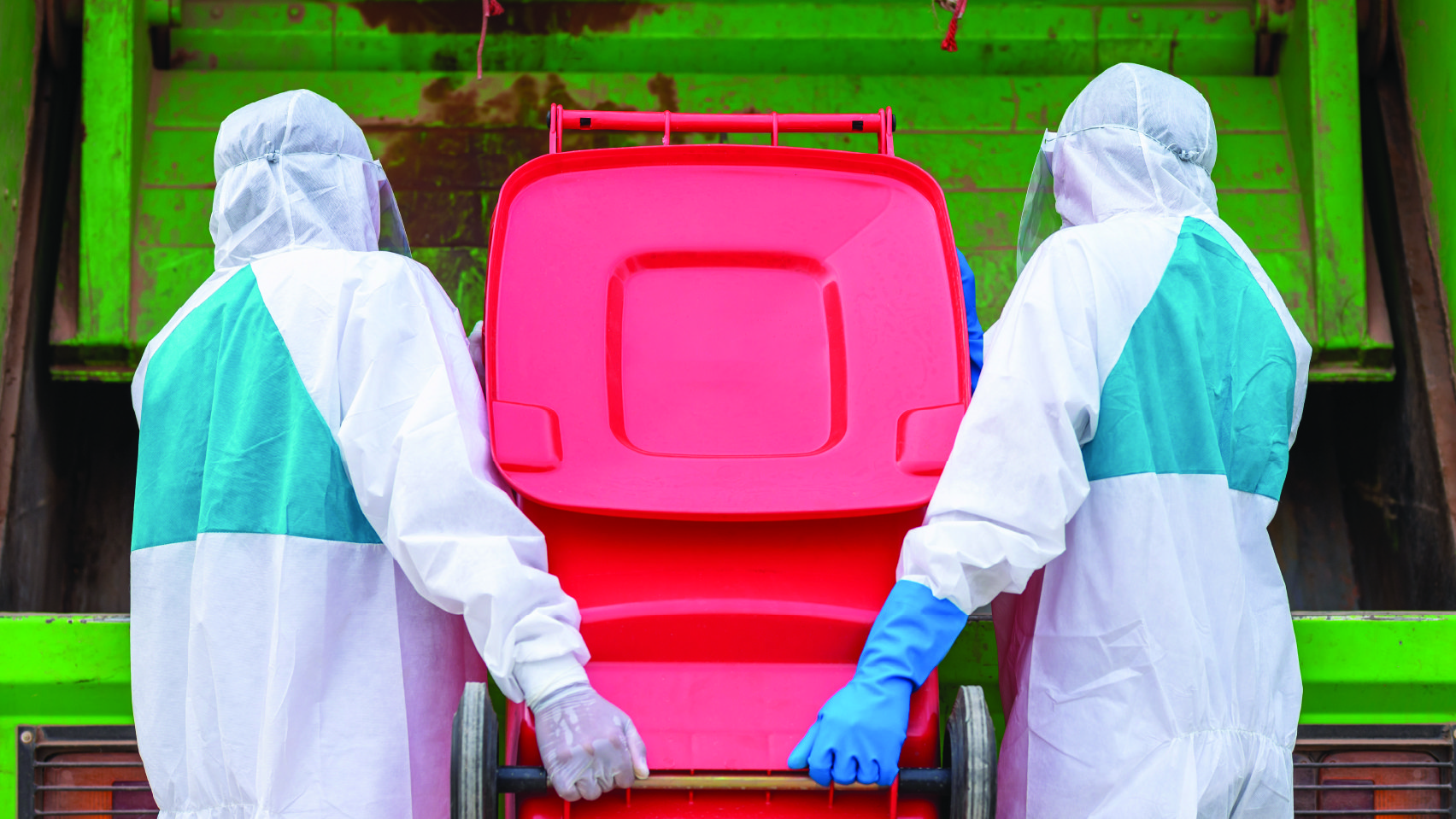 Houston
Medical Waste Disposal
Service
Again, since Houston does not have its own government-run medical waste disposal program, it is up to private medical waste management services like MedCycle to offer the services and compliance training necessary to safely dispose of medical waste.
Here at MedCycle, we offer a variety of storage and collection options suitable for a range of businesses, from private practices to large medical facilities. We will handle the collection, transportation, treatment, and disposal of any type of medical waste, and we can also provide same-day collections.
We also have an online compliance portal that has been trusted by thousands of businesses like yours when it comes to training employees to reduce risk and promote safe practices. Contact us today for a free quote and see how MedCycle can help you manage your medical waste in Houston, TX.