Sharps waste, also known as hazardous waste, is any material with a point of contact capable of cutting, puncturing, pricking, or penetrating skin, waste bags, or other storage units. Improperly disposing of hazardous waste means risking infections in human or animal tissue. There are regulations for sharps disposal in Dallas and other major cities that you are required to follow. 
MedCycle offers waste disposal services to help medical facilities and other businesses with sharps waste in Dallas, Texas and beyond. We are the experts in the safe disposal of biohazardous waste and put together the following guide to learn more about sharps disposal.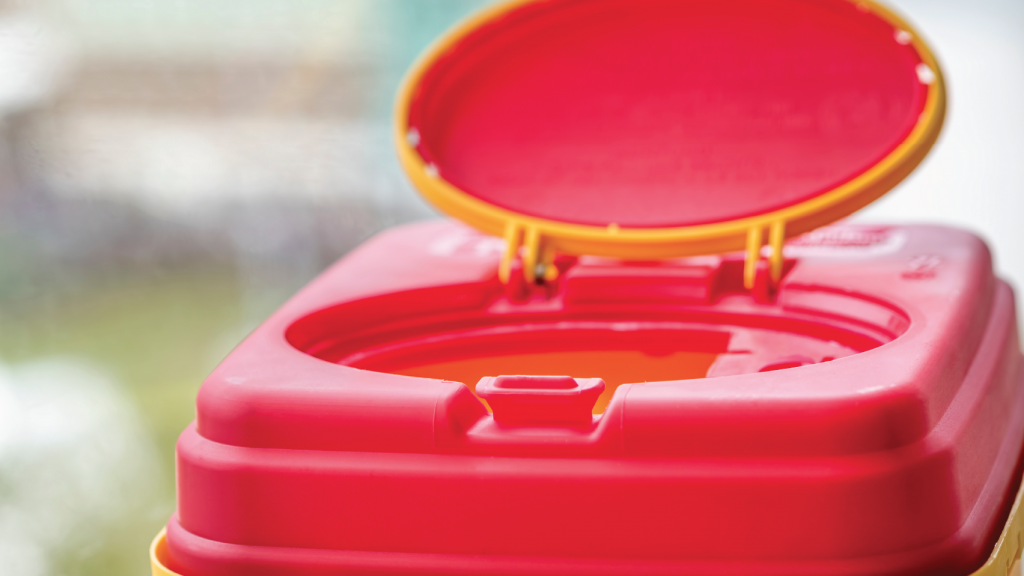 Disposing of
Sharps Waste
First, to properly dispose of sharps waste, you should know what to not throw in regular trash cans. Examples of sharps waste are as follows:
Suture needles

Acupuncture needles

Hypodermic needles

Scalpel needles

Syringes with or without needles

Razor blades

Culture dishes and slides

Broken glass from the laboratory, including slides, slide covers, etc.

Trauma scene waste that can cut, slice, or pierce
The most essential part of sharps disposal is the packaging. Any used or broken sharps waste should be disposed of in a secure, sealed sharps disposal container, which should not be easy to open or penetrate. The Food and Drugs Administration (FDA) has specifically designed containers that are approved to safely hold biohazardous waste.
A medical waste management company—like MedCycle—is your best bet to ensure that your sharps waste is properly contained and disposed of in an approved procedure. Our team also provides HIPAA, EPPA, and OSHA compliance training in the state of Texas with our online compliance solutions. Our services are available to medical facilities and other businesses with sharps waste in Dallas. 
Importance of Proper
Sharps Disposal
One of the top reasons proper sharps waste disposal is crucial is its danger to human and environmental health. People and animals can get injured from used needles and other sharps and develop infectious and serious health conditions like Hepatitis B, Hepatitis C, and Human Immunodeficiency Virus (HIV). 
Around 16 billion injections are administered every year. The World Health Organization (WHO) also discovered, in 2014, that unsafe injections infected 1.7 million people with Hepatitis B, 315,000 with Hepatitis C, and 33,800 with HIV. These numbers add up and are the reason behind the regulations on biohazardous waste. 
Why Use MedCycle
Sharps Disposal
in
Dallas
Discover the MedCycle difference when you utilize any of our various biomedical waste disposal services and compliance training. Our clients range from family practices to large medical facilities, and everyone gets the best customer service and customized, cost-effective solutions for biohazardous waste. 
Whether your business has several locations or only one, we can save you valuable time and resources by streamlining and managing your facilities' waste requirements and HIPAA and OSHA compliance needs.
We work directly with site managers to ensure that each aspect of your business receives the right service level. Our team will meet with you to discuss identified service levels and needs, helping to reduce unnecessary costs. Once a customized plan is put in place, we can take all facilities' waste management tasks off your hands. Requests are processed as soon they are received, and last-minute requests can almost always be accommodated. We always strive to deliver a service that exceeds our client's expectations.
Contact us today for a free quote and to learn more about how we can help you.